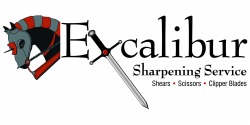 About Us
Excalibur Sharpening Service
2486 Five Shillings Rd
Frederick, MD 21701
(240) 674-7895
excalibur.sharpening@gmail.com

We sharpen shears, scissors, and clipper blades for beauticians, barbers, groomers, veterinarians and equestrians.
ATTENTION BARBERS!!!! Do you need your T Outliners modified for crisp lines????
I know how to do it call me for info. See this youtube video by Chuka the Barber
CLIPPER REPAIR AND SERVICE !!!! Oster and Andis
Serving the Washington DC Metropolitan area, since 2001, with on site shears and scissors sharpening.
Satisfied Customers include
The Temple Paul Mitchell Beauty School
Aveda Institute Washington DC
New York New York


Bennett Career Institute
Clipper blades and clipper service repair available pick up or drop off to me for Frederick County, Upper Montgomery County, and Carroll County.
Mail in service for others.
CERTIFIED Sharkfin
sharpener
MY INFO:

Excalibur Sharpening Service


2486 Five Shillings Rd




Frederick, MD 21701

(240) 674-7895
excalibur.sharpening@gmail.com